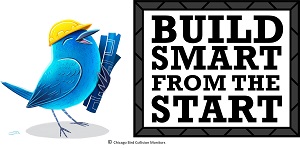 Build Smart from the Start!
Bird Friendly Design Ordinance
Chicago Bird Collision Monitors has helped lead a coalition of bird organizations to craft a city ordinance that requires that new buildings in critical areas of Chicago be constructed with the current best practices for bird-friendly design.
We are hopeful that this ordinance will provide the guidelines on how to plan for bird safety at the beginning of all new building projects so that much more costly retrofit solutions will not be needed after a building has been constructed. The ordinance does not require that existing structures comply with bird friendly design requirements but can set a standard for ways to improve existing buildings that are hazardous to birds.
The ordinance applies to buildings (excluding 1, 2, & 3-unit dwellings) in critical zones along the lakefront, river corridor, downtown and for planned developments and those abutting public open space districts.
We would like to see Chicago become a leader in innovations for bird-friendly buildings as they have been for so much architectural design!
Many of the features that make a building safer for birds are also good for energy conservation making them beneficial in more than one way. We know that products to meet bird safety requirements are continuing to be developed and will grow to provide a variety of options and prices to meet an increasing demand.
This is the right thing to do along with other energy and environmental innovations to protect the birds that are a critical part of a healthy world we all rely on!
The ordinance has been sponsored and introduced by Alderman Brian Hopkins with additional co:sponsors:Alderman James Cappleman, Alderman Daniel La Spata, Alderman Harry Osterman, Alderman Brendan Reilly, Alderman Michele Smith, Alderman Gilbert Villegas, Alderman Scott Waguespack
We hope all Chicago's lawmakers will stand behind this important initiative.
Send a letter to your alderman that tells our city officials - bird protection matters to you!
Use your own words or personalize this example:
Dear Alderman XXX
I'm pleased to learn that a bird-friendly design ordinance for Chicago was introduced to the city council on January 23, 2019, by Alderman Brian Hopkins. The issue of protecting the millions of migratory birds that live and travel through our city is important to me and to the health of our environment. Tens of thousands of birds are killed or injured each year as a result of collisions with dangerous transparent or reflective glass in building designs throughout the Chicago area. I urge you to support this ordinance that will make Chicago a leader in protecting the birds that we enjoy and rely on as part of a sustainable world.
XXXXXX
XXXward resident