CBCM Bird Tales
Read some accounts of CBCM volunteers in action!
The dangers are black and white!
CBCM found this Black-and-white Warbler outside a downtown building. The little bird had a band that identified it as a warbler that hatched in Ontario, Canada in 2005. It traveled between its northern breeding grounds to the southern United States or Central America 5 times before its sixth migration brought it through Chicago where is died from a collision with a building. How unfortunate for a bird that could have lived to be 11 years old! How important it makes finding building designs and lighting solutions that are safer for birds!
Cedar Waxwing Window Strike
A Cedar Waxwing passing through the downtown area collided with a high rise building window and remained stunned on an outside ledge for hours - vulnerable to predators and unable to move to safety with its flock. Staff at Billy Dec called Chicago Bird Collision Monitors and CBCM volunteer David Stagman came to the rescue! Watch David bring the bird to safety!
The Cedar Waxwing was transported for treatment, made a full recovery and was returned to the wild!
Red-tailed hawk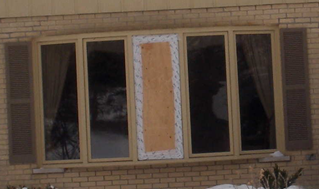 Either in pursuit of prey, attracted by something on the other side of the window, or fooled by a reflection, this female red-tailed hawk broke through the double pane glass of a suburban front window. Home security alarms alerted the family of a break-in to their home. When they found this very large bird of prey in their living room, they called Chicago Bird Collision Monitors who safely rescued the bird and took it to Willowbrook Wildlife Center. The hawk was evaluated and found to have only minor injuries. Amazing, considering the force with which it must have hit to break the heavy glass!
Peregrine falcon

A young Peregrine falcon (endangered species) flew through heavy security glass on the upper story of a Lincoln Park high rise building in early summer. It was recovered by building staff and taken for care by CBCM to Willowbrook Wildlife Center where it was examined and cared for until it was ready to return to its territory.
Many of the millions of birds that strike windows every year at residential and commercial structures are not as fortunate as these birds.
Find ways to make your windows safer for birds.