It is estimated that up to a billion birds die and countless others are injured each year in North America as a result of window collisions!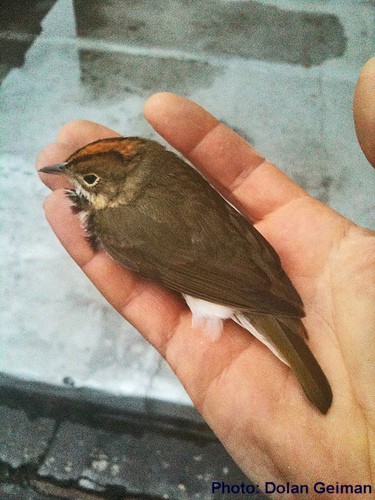 Chicago Bird Collision Monitors (CBCM) is a volunteer conservation project dedicated to the protection of migratory birds through rescue, advocacy and outreach.
CBCM works to protect and recover migratory birds that are killed and injured in the downtown Chicago area each spring and fall migration. Confusing lights and glass building design cause thousands of birds migrating along the lakefront to collide with downtown buildings. Our teams spend the early morning hours recovering these birds to save the injured and document the fatalities that have occurred.
We promote bird-safe lighting and building design to reduce bird collision hazards. Our project collaborates with building management, architects, planners and the public to prevent bird collisions.
LATEST NEWS and EVENTS
Chicago's peak bird migration has resulted in the death and injury of thousands of migratory birds.
In addition to those collected at the McCormick Place Lakeside building, Chicago Bird Collision Monitors' tireless and dedicated volunteers have rescued and recovered thousands of birds in the downtown area over the past week.
Please donate help us keep helping more birds!
Please sign the petition that CBCM has created with the Chicago Ornithological Society and Chicago Audubon Society.
*****************************************
Support bird-friendly design in Chicago!
*****************************************
Spring migration begins in March and Fall migration begins in August - we need you to help us help migratory birds!
Click on the below Training Schedule link.
*****************************************
Leave the Lights Out for Birds!
View the April 2018 BOMA article
CBCM and Willowbrook Wildlife Center in the news Daily Herald article Quigley, Griffith Introduce Bipartisan Legislation to Prevent Millions of Bird Deaths
May 12, 2015 Press Release
Bill would require federal buildings to incorporate bird-safe measures
WASHINGTON -- Today, U.S. Representative Mike Quigley (IL-05), along with Rep. Morgan Griffith (VA-09), introduced the Federal Bird-Safe Buildings Act, which would help prevent the deaths of millions of birds by including bird-safe building materials and design features across federal buildings.
"Migratory bird season in Chicago reminds us that birds are not only beautiful animals telling us that warmer weather is on its way; but they help generate billions of dollars annually to the U.S. economy through wildlife watching activities," said Rep. Quigley. "However, collisions with glass buildings claim hundreds of millions of bird lives each year in the U.S. The Federal Bird-Safe Buildings Act...read more

Please click the link below and support this bill
Thank you for helping us help the birds.
Chicago Bird Collision Monitors (CBCM) is an 501(c)(3) bird conservation organization.
---
Home | Contact Us | FAQ
© 2012 Chicago Bird Collision Monitors (™)